2022 Barn Hunt National
The 2022 Barn Hunt National will take place October 28-30, at Ozarks Empire Fairgrounds, hosted by the Ozarks Mischief Barn Hunt Club. The National is a non-regular event where the best of the best in Barn Hunt are tested on a series of courses over three days to achieve Gold, Silver, and Bronze medals in Grand National, Games, and Versatility.
Premium
Schedule
Entry Qualifications
In order to enter the Barn Hunt National, each dog must have attained a title of Senior or above on or before May 31, 2022. The National opens July 1 and closes August 31. There will be a staged opening with preference given to Dogs with Regional Byes, then an order to be determined. The National will fill when entry limits are met, and there are no guaranteed entries for Senior dogs.
Location
Ozark Empire Fairgrounds
Corwin Arena and Annex
3001 N. Grant
Springfield, MO 65803
The NADD National and a Fast CAT Trial will be held in conjunction with the Barn Hunt National.
The Barn Hunt area will be the Arena and Annex. The NADD area will be the Eplex.
The Barn Hunt arena site will be indoors on packed dirt. The arena is heated (expect to wear a coat if it is chilly out). The annex is fully climate controlled and has a concrete floor.
Arena crating is for handicapped/ADA only.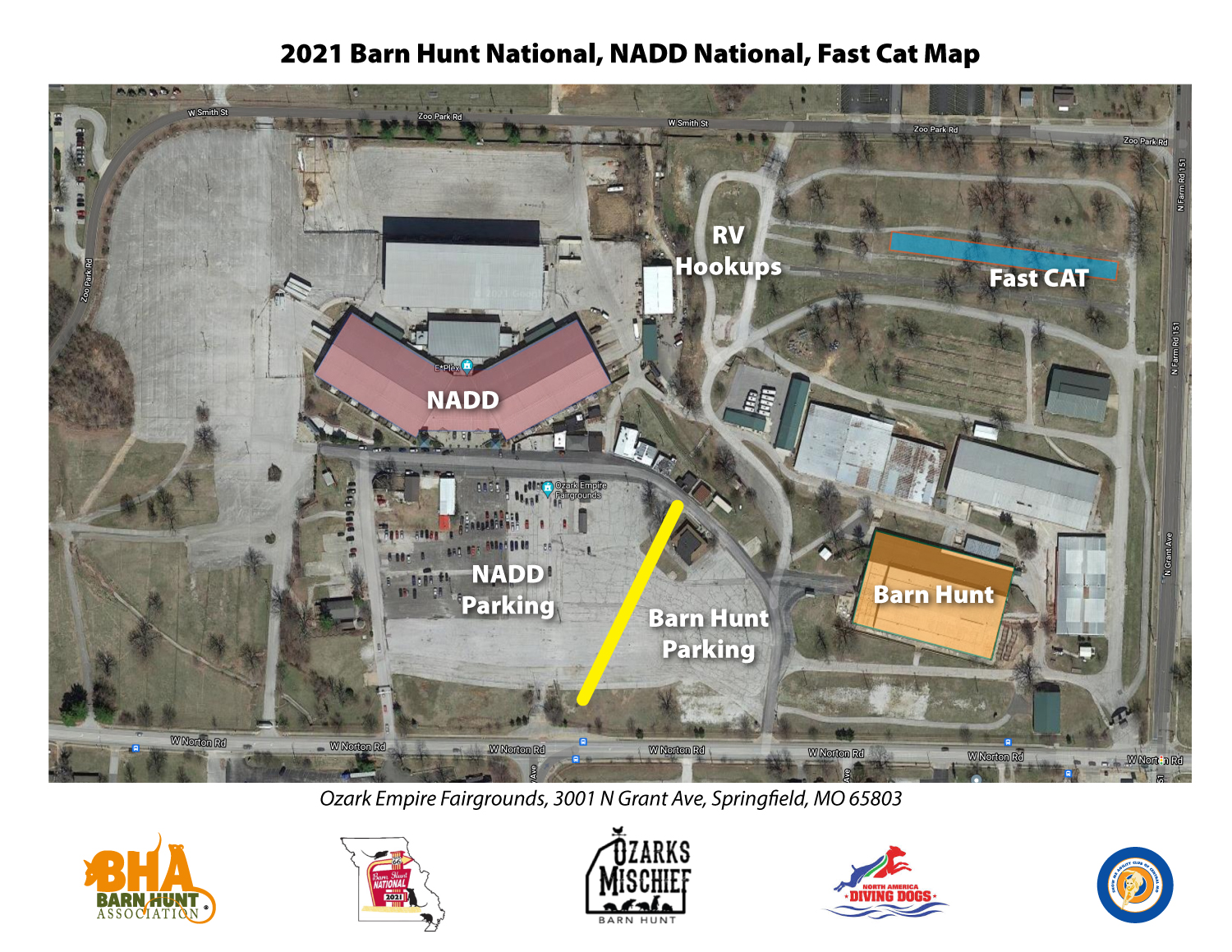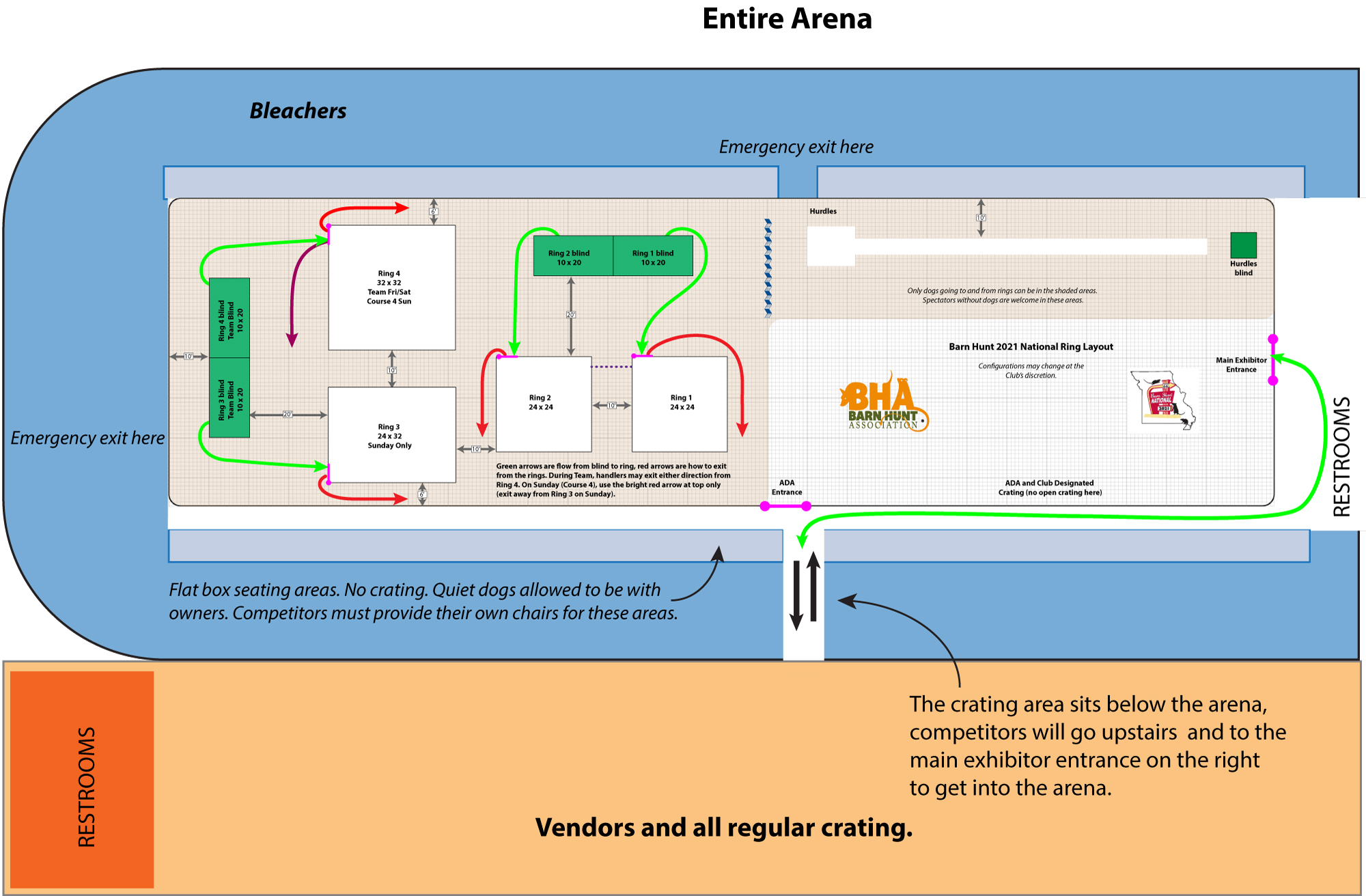 RV Info
There are RV hookups and plenty of parking. RV hookups will be shared with NADD competitors, with Barn Hunt slots opening a week prior to NADD slots. Barn Hunt is guaranteed a certain number of slots. There is also a beautiful KOA campground nearby. RV reservations will not be available until sometime between mid-August and September 1. We will update that info as soon as we have it.
Springfield Facts
Springfield is alive with history from Wilson's Creek National Battlefield to the birthplace of Route 66. Springfield has the only drive through cave, Fantastic Caverns, which is dog friendly! We are home of several breweries that are also pet friendly. While here, one would be remiss if they didn't see the original home of Bass Pro where polite, leashed dogs are welcome. There are many beautiful parks as well. For more fun things to do with your dog while here, visit Springfield MO Pet Friendly.
The Springfield Airport services American, Delta, Allegiant, and United with non stops to many major hubs. http://www.flyspringfield.com/airlines.
There are many hotels and restaurants near the fairgrounds.
Weather in Springfield in mid-November averages 30s for lows and 50s for highs. Spingfield weather can be variable, so layers and rain gear are strongly encouraged.
Host Hotel
We are pleased to announce the host hotel for the 2021 Barn Hunt Nationals! Greenstay Hotels and Suites has been used by many dog clubs in the area, including us, and always gets great reviews. Dog friendly and they don't have a pet fee! Lots of green space to potty and walk. Conveniently located right off 65 highway.
Rooms are $84.00 a night plus taxes. A block of rooms has been reserved at this rate under Ozarks Mischief Barn Hunt. You must call them directly to book the room at this rate. Reserve early! Thank you Greenstay for being a great host!
GREENSTAY HOTEL AND SUITES
222 N INGRAM MILL ROAD
SPRINGFIELD, MO 65802
(417)863-1440
Please remember to pick up after your pet so we can keep this great resource!
https://www.facebook.com/Greenstay.Hotel/
Judges
Annual Awards Banquet
OMBH is excited to announce the awards banquet will be at the Savoy, www.cstreetsavoy.com and will feature a full service bar for those wanting to purchase drinks. Menu will be forthcoming. The banquet will be held Friday night.
National Merchandise!
National Committee
Trial Chair: Jennifer Kimberlin
Trial secretary: Emily Wright
Committee: Christan Fowler, Janet Williams, Dan Wright, Karl Cuschieri, Riddoc Ferrier, Heather Ferrier, Avery Miller, Angela Nelson, Joyce Criswell, Lori Smith, Misty Bowen
NADD National and Fast CAT Information
Click here for more information on the NADD National.
Click here for the Fast CAT Premium and online entry.