About Robin Nuttall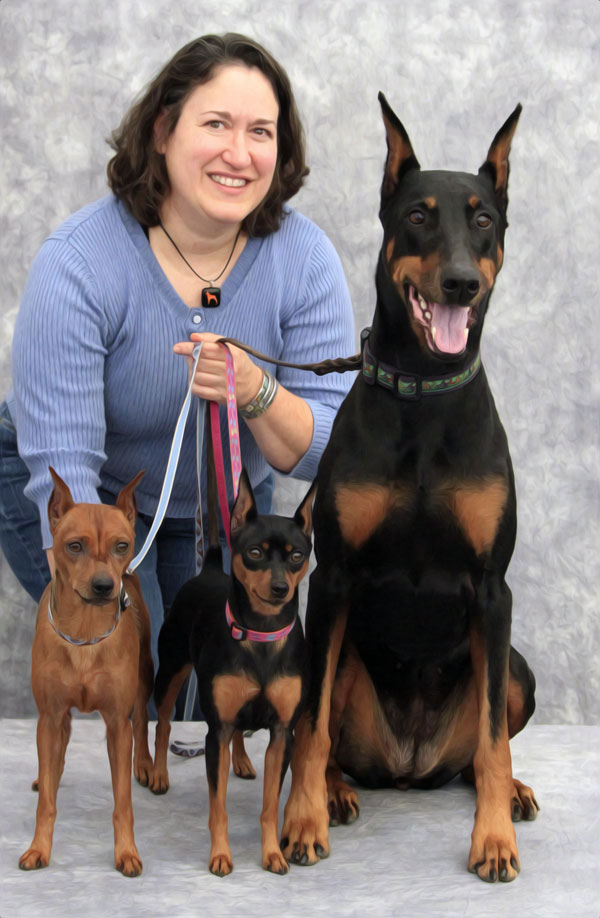 Robin with Zipper,the dog who inspired Barn Hunt, his neice Prada, and doberman Cala. Others have since come, but these dogs were there at the start.. Photo © Debbie Christoff, Pawsitive Impressions
I was one of those horse-crazy girls growing up. In my case, I was lucky to have indulgent parents, and ended up attending William Woods University in Fulton, MO to study Equestrian Science. I eventually ended up switching to an equally practical (har) major in art and amazingly enough did work as a graphic designer for many years.
I bought my first Doberman before I graduated in 1982. I got lucky and the first dog training class I ever signed up for was taught by a man who showed his own dobermans in conformation and obedience. I ended up putting my first obedience title ever on a dog in 1984. Mentored first by the Doberman trainer then later by a local show-breeder of springer spaniels, I ventured into the dog sport world.
In the intervening years, I have trained and shown dogs in conformation, obedience, rally, agility, dock diving, lure coursing/Fast CAT, Scent Work, Earthdog, and schutzhund/IPO. And of course, Barn Hunt. Zipper was the first Min Pin in the U.S. with a Junior, Senior, and Master Earthdog title.
I have competed in AKC, UKC, NADAC, ASCA, AWTA, Ultimate Air, UDC, and more..
I have been Club President, Vice President, and Board Member for the Show Me Agility Club of Central MO and Show Me Canines UKC club in Columbia, MO, and was Agility Chair for our AKC Agility Trials for seven years. I am a former member of the Doberman Pinscher Club of America and a current member of the United Doberman Club and the Miniature Pinscher Club of America. I was co-originator of the Longevity Program for the DPCA along with Vic Monteleon.
In 2006 I was given my first Min Pin by noted breeders Pam Campbell Dziuk and Eddie Dziuk. That dog was Zipper, the dog who inspired Barn Hunt.
In creating Barn Hunt, I tried my best to use wisely my experiences competing in many different organizations and sports as well as my general knowledge of the dog world. By picking what I liked about various organizations and sports and discarding aspects I didn't care for, I worked to put a sport together that would have wide appeal to a number of different people at all levels of experience.
I also involved competitors from the start and consider competitor and judge input extremely important as we all work together to move Barn Hunt into the future as a healthy, fun, economical, thriving sport.