The Annual Zipper Spirit Award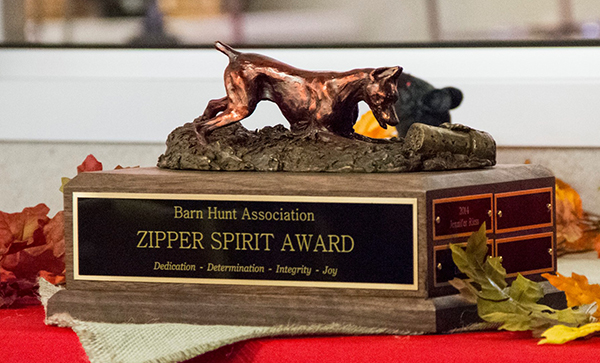 Zipper is the dog who inspired the sport of Barn Hunt. The Zipper Spirit Award is a very special award chosen by Robin Nuttall. The person winning the Zipper Spirit award has demonstrated the values integral to the sport; exemplifying the Dedication, Determination, Integrity, and Joy of Barn Hunt.
The Zipper Spirit Award consists of a perpetual trophy bronze sculpted by Leslie Hutto. Only two copies of this bronze exist, the other being in Robin Nuttall's personal collection. The winner also gets an etched glass plaque. Their name is attached to the perpetual award.
The Zipper Spirit Award is announced at the Annual Awards Banquet at the Barn Hunt National.
Past Winners
2014: Jennifer Riess
2015: Lisa Quast
2016: Victoria Hall
2017: Jackie McVeigh and Will McVeigh
2018: Bonnie Gutzwiler