The Annual RATTIE Award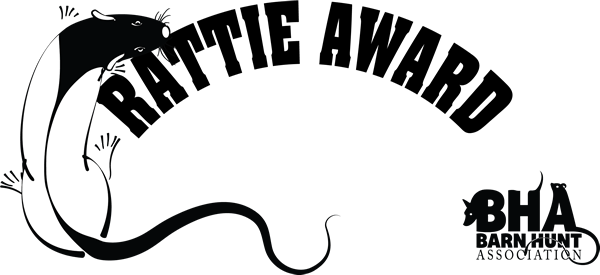 Each year, Barn Hunt participants nominate candidates for the RATTIE award. This award is for the dog or dog and handler who have been inspired/changed/impacted in a positive way by the sport of Barn Hunt during the past year. Anyone with a dog registered in Barn Hunt can be nominated for the RATTIE.
Maybe that person with a special story is a friend, maybe that person is you!
The time period for nominations is announced via facebook and the Barn Hunt Forums After nominations, the candidates are reviewed by the Advisory Committee, and finalists are chosen. Those finalists are then available for voting by the Barn Hunt community.
The RATTIE Award is announced at the Annual Awards Banquet at the Barn Hunt National.
Past Winners
2015: Susan Howard and Amelia's Amazing Grace
2016: Lorri Griffin and Flea
2017: Lois Zebrouvis and Dunhill Emerald Isle of Lochcairn
2018: Eva Raczka and Coyote Run Lambda Lambda Lambda